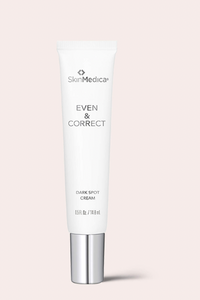 Even & Correct Dark Spot Cream is a fast-acting spot treatment booster that addresses even the most stubborn dark spots left by skin damage from acne or sun exposure.
Appropriate for all skin types.
Key Benefits:
-Clinically proven, fast-acting spot treatment booster to help reduce the appearance of dark spots.
- A powerful booster to address most stubborn dark spots.
- Visible results as early as 2 weeks and continued improvement over 12 weeks.
When to Apply:
- Apply in the evenings only.
Where to Apply:
- Apply on stubborn dark spots nightly, or as tolerated, until dark spots fade.
Sunburn Alert:
This product contains an alpha-hydroxy acid (AHA) that may increase your skin's sensitivity to sunburn. Use sunscreen and limit sun exposure while using this product and for a week following discontinuation.
Caution:
Do not use if you are pregnant, lactating, or planning to become pregnant.
Allē
Members earn 88 points per unit purchased.

Key Ingredients: 
LTN Complex, Glycolic Acid, Kojic Acid, Vitamin C, Retinol .025%
Sign up for our Skinmedica subscription and save 20% off each shipment PLUS receive FREE shipping PLUS earn Allē points! Start saving 20% now!
To subscribe: Once you're in the cart window, edit the "One Time Only" to the shipment frequency you desire from every 30 to 90 days to save 20%!